Personal information
Name Mikael
Age 18
Country Sweden
Your character
Name Bejva
Race Night elf
Class Druid
Talent spec 1/0/60
Level 70
/played with a screenie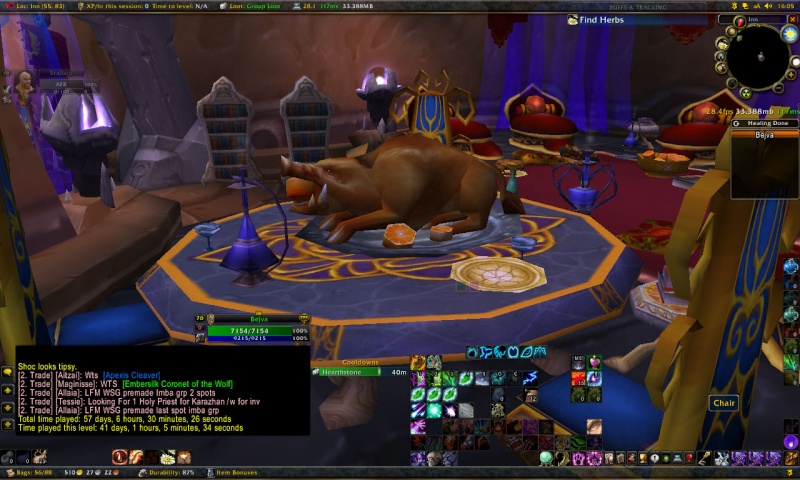 Sitting on my laptop on the screenie so kinda low fps

Gametime
How much do you play avarage every day 6-8 hours
Do you own the account yes
Can you play between 18:30-23:00 gametime yes
How many nights in the week can you play 4-6
If u cant manage to play atleast 3 nights a week, dont bother to apply to Dies Irae
Character information
Karazan attuned: yes
Professions
Mining (thinking about rerolling LW or alchemy)
Herbalism
secondary: Fishing
Link your character here from armory:
http://eu.wowarmory.com/character-sheet.xml?r=Mazrigos&n=Bejva
Technical information
Internetconnection 24mbit/1mbit
Computer
On my stationary:
AMD 64
GeForce 7950gx2
1gb DDR RAM
On my laptop:
AMD 64 x2
Radeon xpress 1100
1GB DDR2
Ventrilo 2.1.3 installed Yes
Headset with a mic. a + if u can talk
My old mic broke down so I'm gonna buy a new one as soon as I get some money.
Questions
Do you have any friend in the guild that know you or can voyer for you
Freixenet
Ewlyn
I know both IRL.
Do you have any experience with the guild or the members
Don't remember tbh
Wich was your last guild you where member in and why did you leave it
I'm in PejVejPej atm, it's only a guild filled with friends/alts.
Why should we accept you to Dies Irae
Because I am a experienced healer both with druid and priest
I am very active and friendly
And I love to raid.
What do you get out of joining Dies Irae
Hopefully get to know alot of nice people
Can you afford to use flasks/pots/food on every boss tryes.
Yes
What do u think of learning new bosses with endless whipes one night just to getting know the boss
well wipes = progress so I don't mind tbh.
If anyone got any more questions I'd gladly answer them in-game.